If you're working on any design project, it's well worth leaning on icon files, a small part of any design plan that could help achieve an excellent result. Little pieces may appear rather simple, but they can be incredibly useful to graphic design projects, web design, and a lot more.
Icons can be used to symbolize meaning and important points in charts and graphs, in combination with other elements, to create brand-new visualizations.
Despite their modest size and apparent simplicity, it is an immense undertaking to design an icon. Presuming one can convincingly represent a certain concept in an icon, how does one go about fashioning an icon that looks decent at a small size? One must first determine which images may best illustrate concepts, decide upon a collection of appropriate objects or symbols, and then decide which of these icons is to be contained in each set.
There's a lot of work involved with creating such icons, which is why premium ones can cost hundreds of dollars. However, if you can't afford them, don't fret. There are plenty of websites offering free icon files that you can download to meet your budget.
Our team has sought out various icons that both suit your needs and highlight the current trends. You can bet on it that whatever you are looking for you will find on one of these sites.
01. Icons8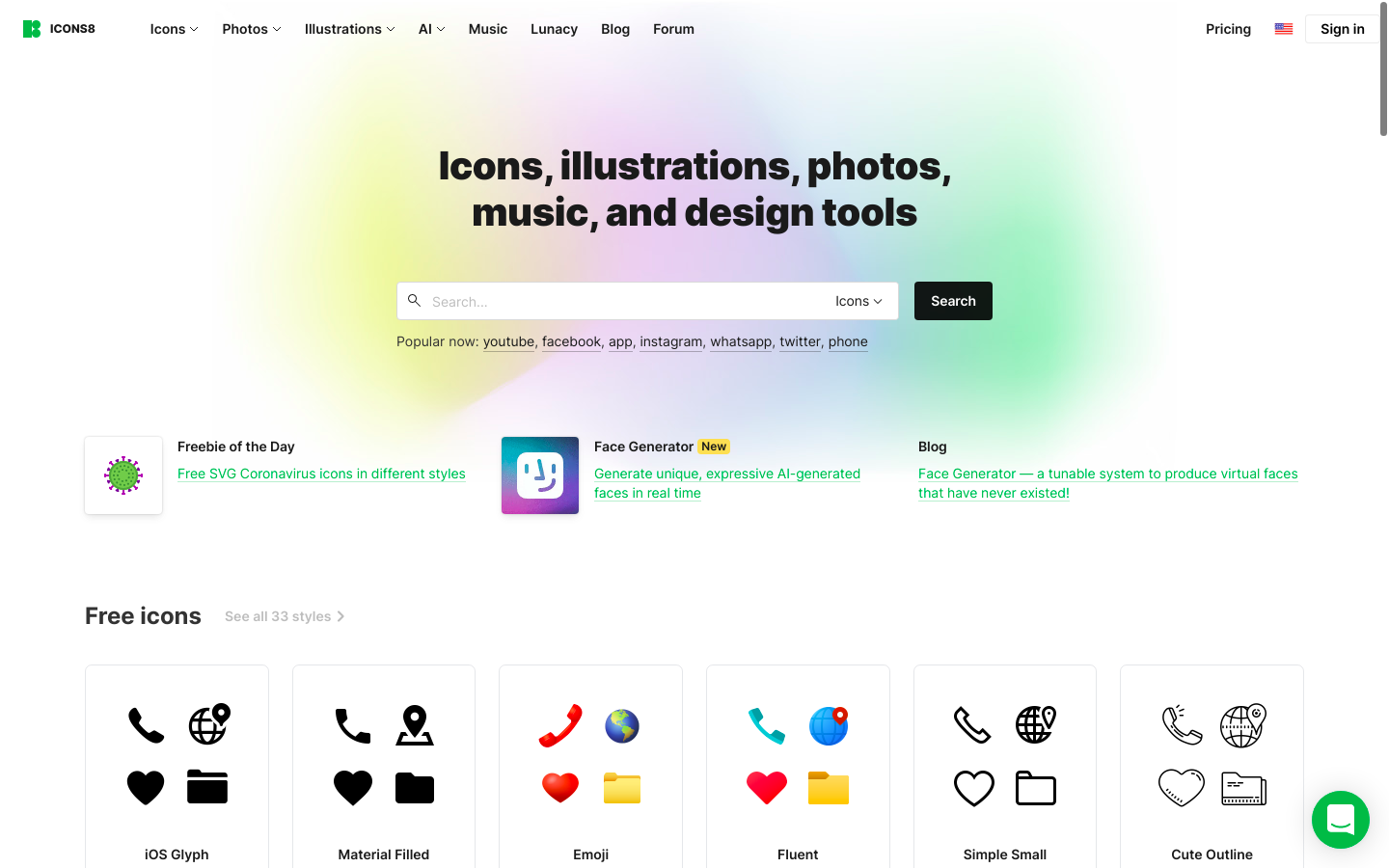 Icons8 is a library of free and premium icons that aims to provide creative elements and tools for the design community. A team of 40 works on the website and its resources originate in-house.
Three separate web applications are available for creating customized icons. Using the tools, text, overlays, and background can be incorporated into icons before being saved locally or downloaded as an image. Icons can be generated in any shape, size, and color. Desktop apps are available for macOS and Windows.
Icons8 works on a request-based system so you can submit icons for your dream requests and the icon designers will create the top requests each day. There are some unique categories of icons that you may not recognize sites like aesthetic app icons and animated icons.
Icons8 Free License lets you incorporate icons for free on websites, mobile apps, and desktop apps, but you must credit Icons8 and provide a link. All paid plans allow use without attributions, but you must refrain from reselling or re-distributing the icons.
Simplified icons available for free with limitations on the resolution (4k up to HD 720p) are available on the repository. Paid plans, in which icon usage is not attributed, have a monthly subscription fee of $13 for up to 100 downloads or $0.2 for each additional icon thereafter.
02. Envato Elements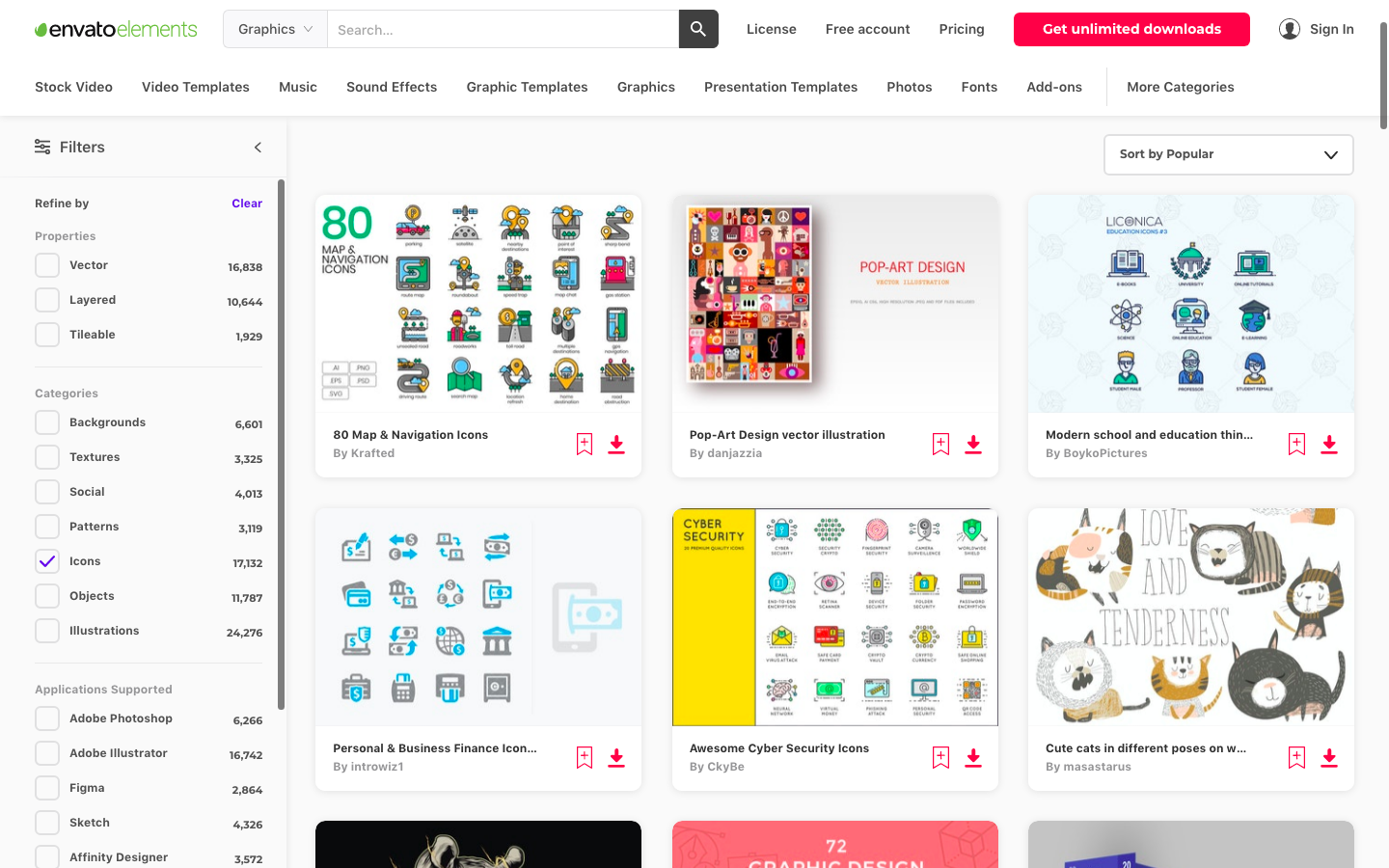 Unlike sets that are restricted to specific icon or graphic choices, if you have a limited budget for designing assets, you do not want to limit your options to only free icons. Envato Elements is a massive selection of design elements that includes icons, graphics, fonts, templates, and stock images and videos.
Instead of paying for each download, you can sign up for membership from only $16.50 per month and receive unlimited access to the full library of millions of creative assets with unlimited downloads. There are currently more than 17,000 icon files available for download on Elements, covering a vast array of subject areas, styles, and file formats.
03. Iconfinder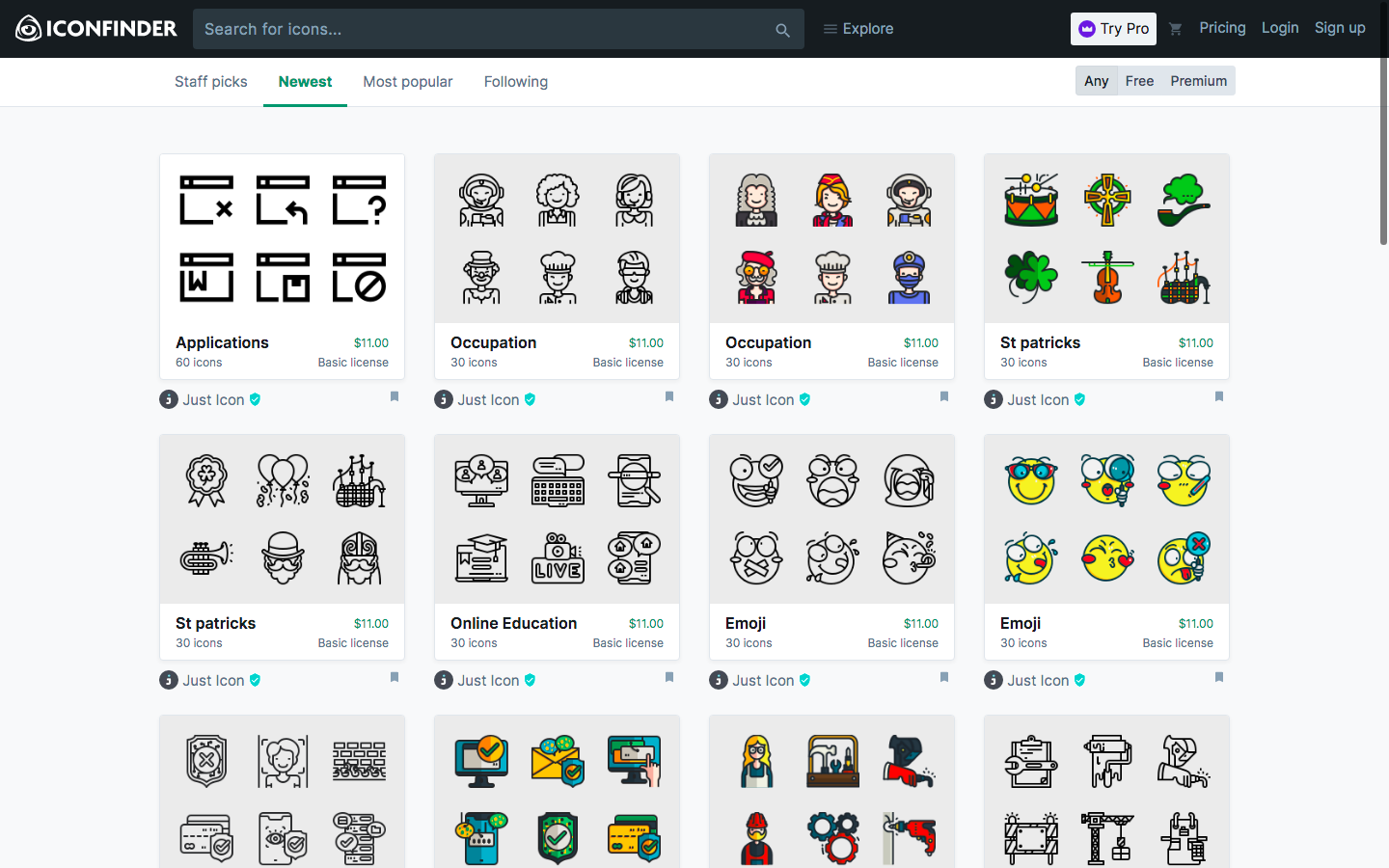 IconFinder is one of the most commonly used icon resources on the internet and is basically a search engine for icons. It grants over 5.5 million icons in an extensive range of styles and categories.
You can use the search engine to find icons by keyword, or you can find an icon pack designed by a particular artist or designer. Once you've found an icon or icon pack that appeals to you, you can adjust its colors and shapes with an online editor before you download it if you want.
More than 5.5 million icons are offered for downloading free of charge. Whatever license you select, other icons are released with the Iconfinder Basic License and you may download them for personal and commercial projects without restriction. You shall not resell or retransmit icons without the permission of Iconfinder.
Some icons come free of charge. Icons that cost $2 apiece are available in the installed app icons package, which costs $9. You can also choose from the Ultimate and Premium subscription packages, which come with an array of download credits per month at a $40.50 discounted price. Any variety of plans is available for monthly subscriptions and an unlimited access to download plan.
04. Pixelbuddha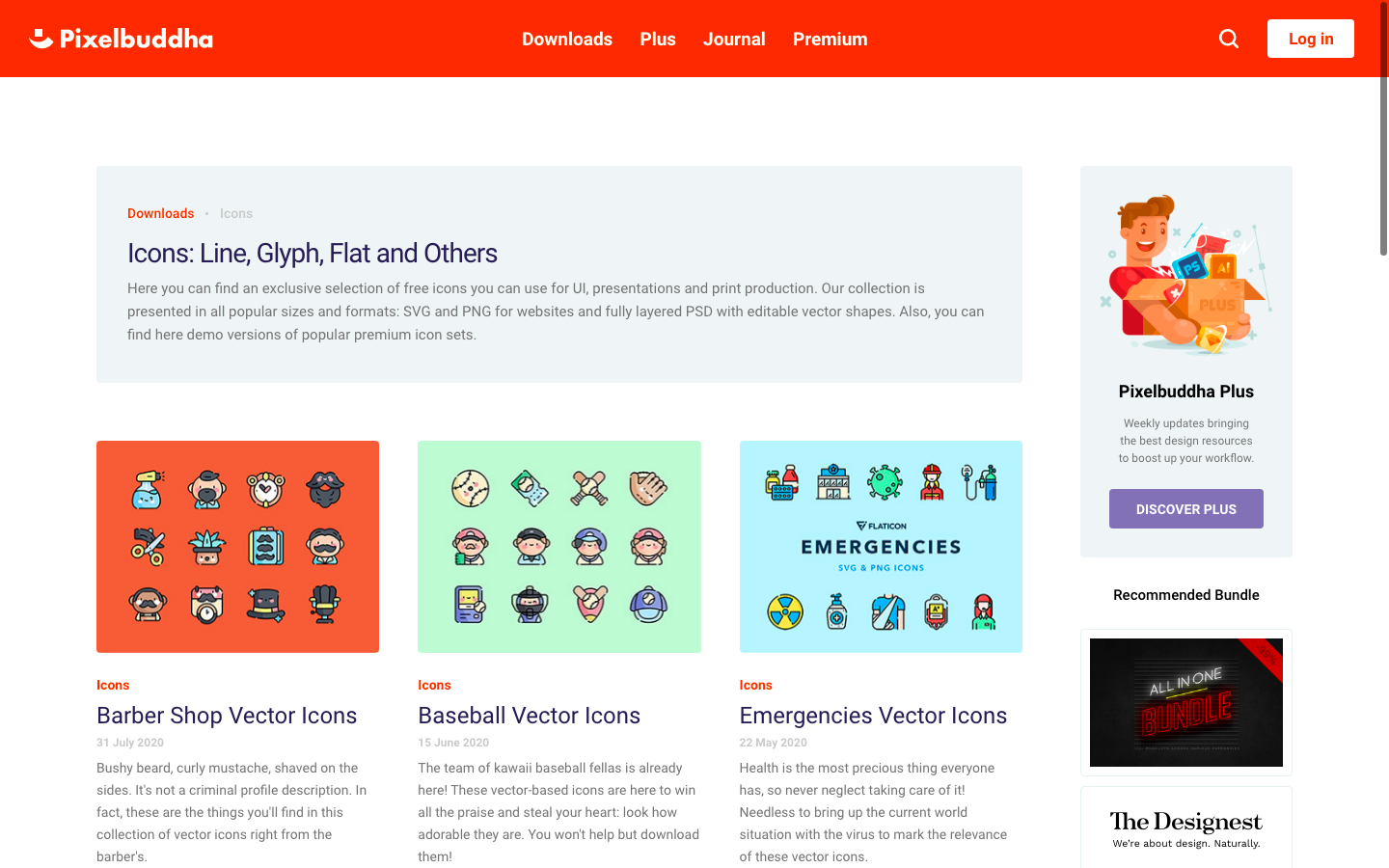 PixelBuddha is a collection of free and premium design resources created by Reeze and his team and over one hundred creatives from around the globe. Hundreds of free icons are available in a variety of categories and styles. One of the icon sets can be viewed in SVG and PNG formats.
Pixelbuddha offers a broader selection of icon sets on Pixelbuddha Plus, for which he charges regular membership dues. If you select this paid membership plan, you will gain access to new icons, fonts, templates, textures, animations, and other materials on a weekly basis, in addition to special Pixelbuddha Plus-only offers. You can purchase premium icon sets as well.
Files containing thousands of icons are currently available. Available file formats include SVG, PNG, and PSD. Graphic files are licensed available for use in personal and commercial projects with only a few restrictions, such as selling your work under a fixed price or not available for hire. If you or your organization wish to utilize the icons in commercial projects you plan to sell, you will need to procure an extended license to use them.
Some icon files are available for download to join Pixelbuddha Plus for $10 per month. The subscription fee gives you access to additional resources from the membership.
05. Creative Market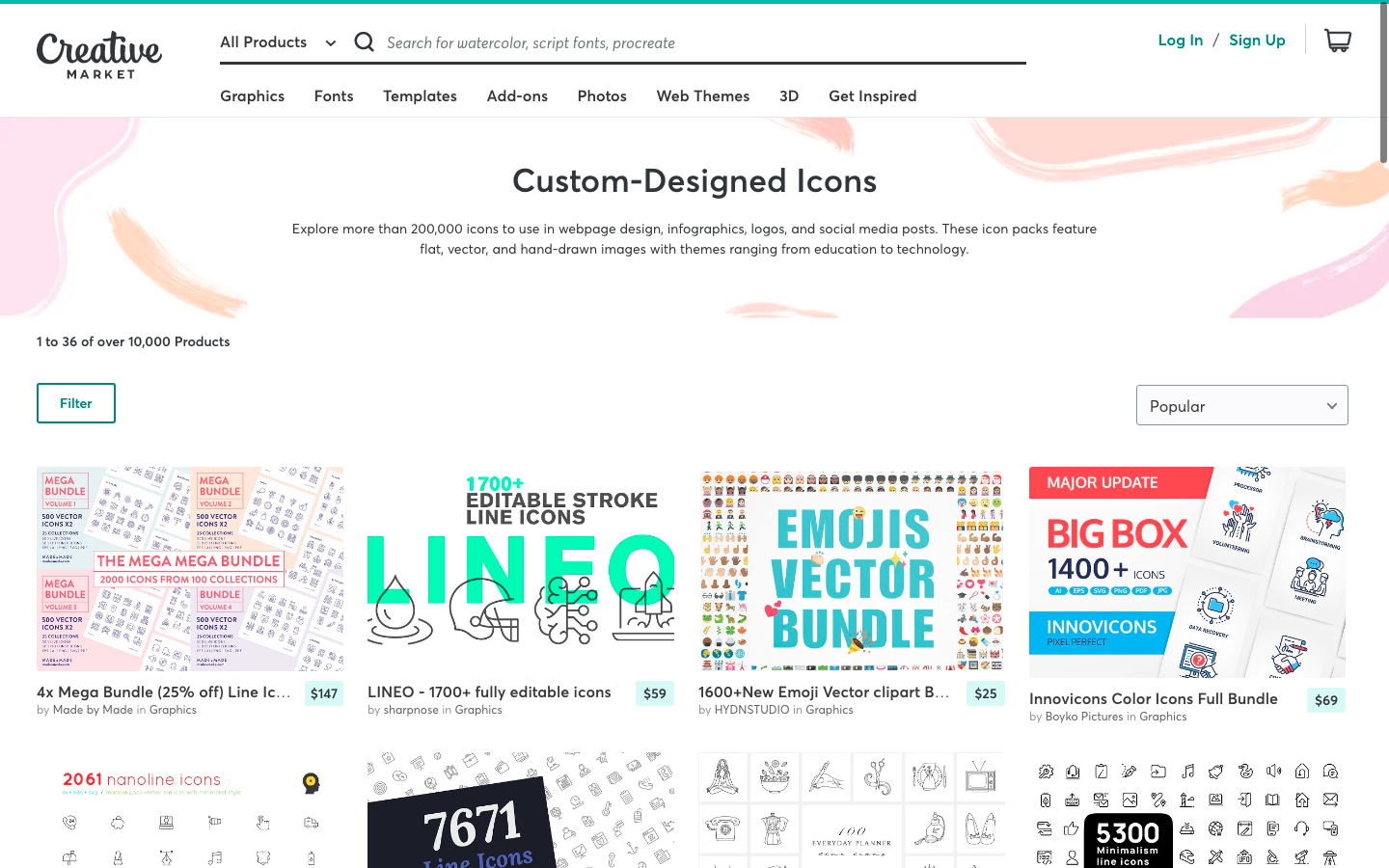 Creative Market is an online marketplace for graphic designers and online developers alike. Hundreds of creative professionals and illustrators from all over the globe contribute their content to the website, so nearly every genre of graphic design and layout is available.
You can search for icons by keyword or browse icon sets by the creator. They can also produce tags complementary to your own so you can define the contents you want to see. Creative Market will provide you with suggestions based on your original selections.
06. The Noun Project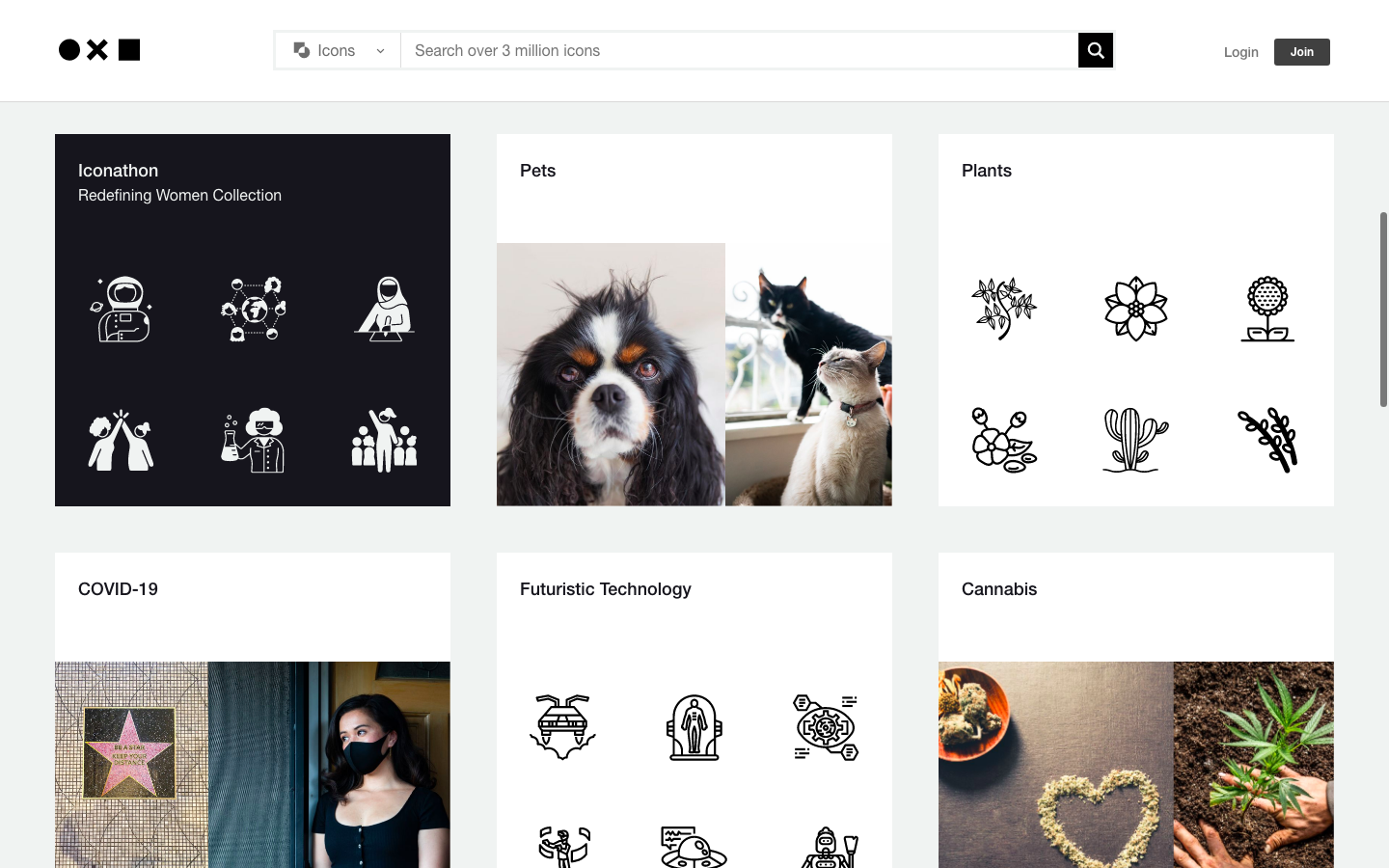 The Noun Project offers one of the largest icon libraries available online, with 3 million icons available. Most of the icons available on this platform are available in SVG and PNG formats, and the icons which are black and white are mostly available on this website.
The site's library accumulates icon files made by several independent designers. It is a handy site where most designers and creative professionals come together to share their designs and use a large number of lively icons.
If desired, you may use icon downloads subject to certain conditions on a noncommerical website. You can use paid Pro icon downloads for commercial or noncommercial websites based on the license you purchase.
For free downloads of basic icons, the price is $2.99 for Pro icons, to download but had to add attribution. Users can subscribe to $39.99 annual subscriptions for unlimited downloads.
07. Freepik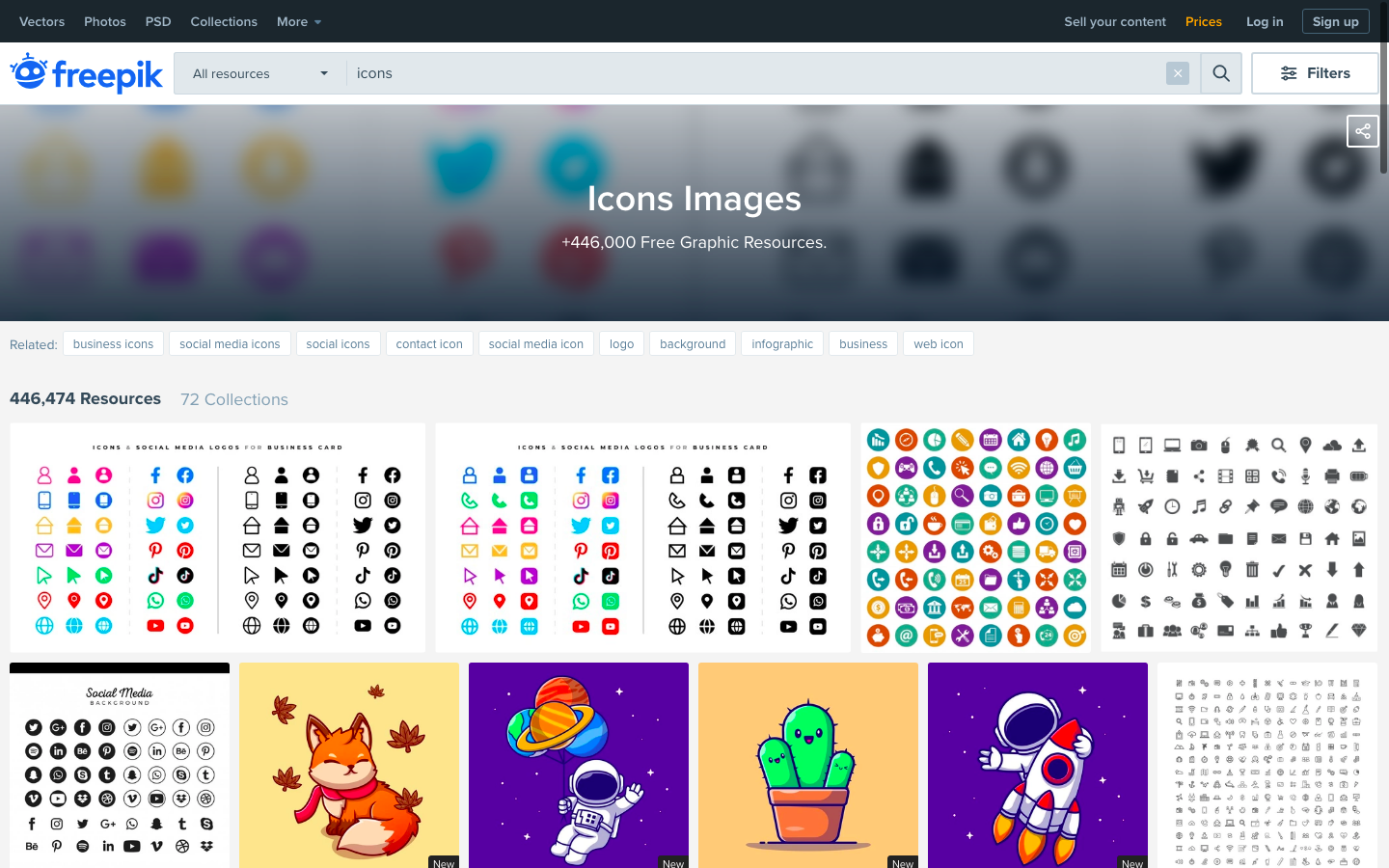 Freepik is available for free and offers thousands of free and premium graphic design assets. Icon files are available in PNG, SVG, and EPS formats.
Five years ago, the majority of this site 's icon library was made up of social media and other media-related icons. However, the site also offers icons from other categories. The icons are in black and white, and they come in 2D, 3D, line, and vector styles.
The free your image resource license allows free use for personal and professional purposes with attribution. Premium subscribers may use the images for personal purposes without attribution. Freepik has some downloadable icons for free usage, but each individual is limited to 10 downloads per day. If you want unrestricted access to the entire offline database without providing attributions, you will need to sign up as a Premium member. Membership costs from $9.99.
08. GraphicBurger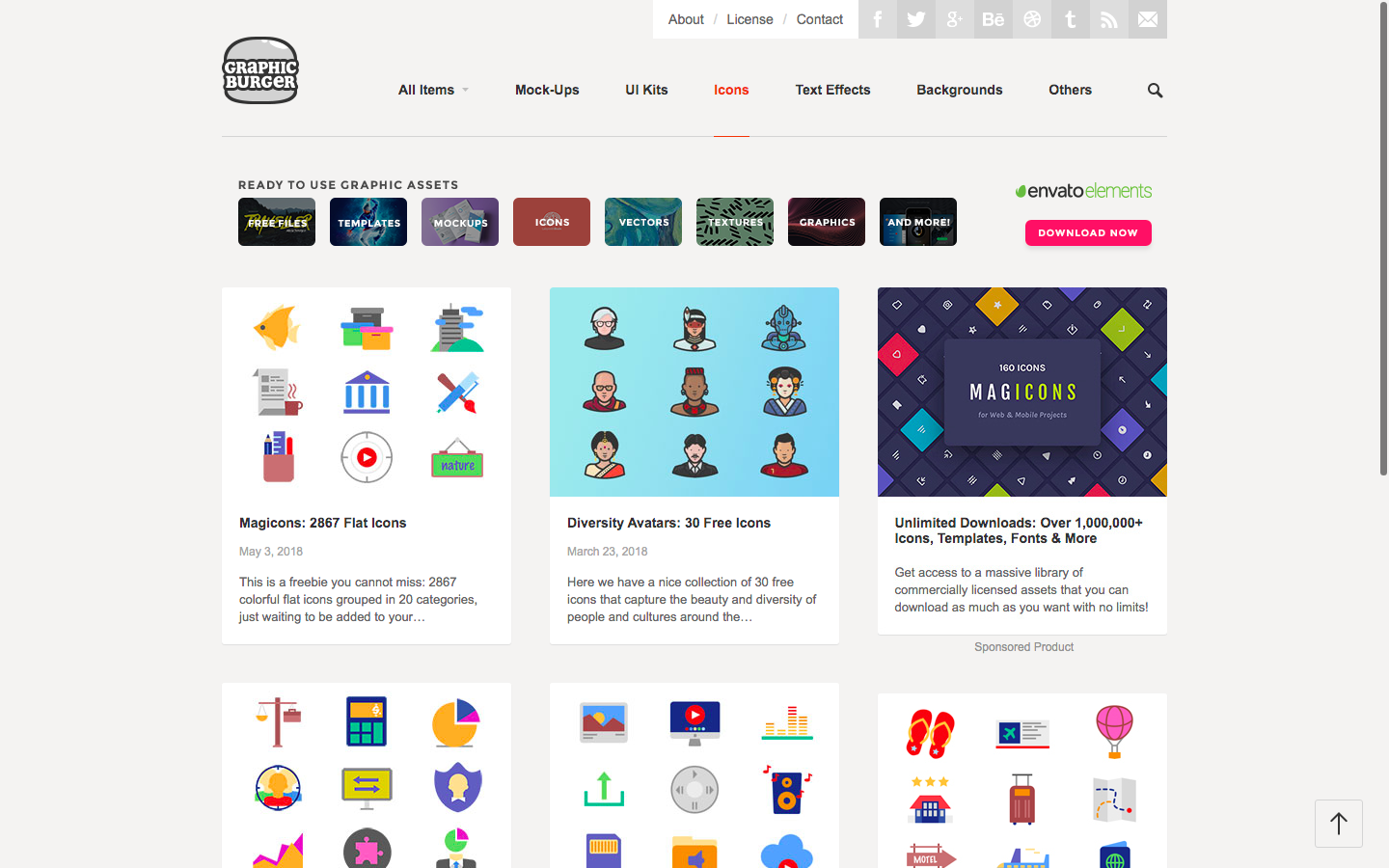 GraphicBurger is a library of open-source graphics that are designed by Romanian graphic designer Raul Taciu. He hasn t updated the website for many years, but it remains a great place for free icon sets, some of which contain thousands of images.
The scarcity of clearly marked icons on this site makes finding a particular one difficult. However, there is so much free icon content here that's suited for a broad array of different applications. Besides free graphics, templates, and other font supplies, you can also create your own original graphics.
You can use the icons in your personal or commercial products without the need for attribution if you obtain a license from GraphicBurger. You may not resell or redistribute the icons.
09. Pixeden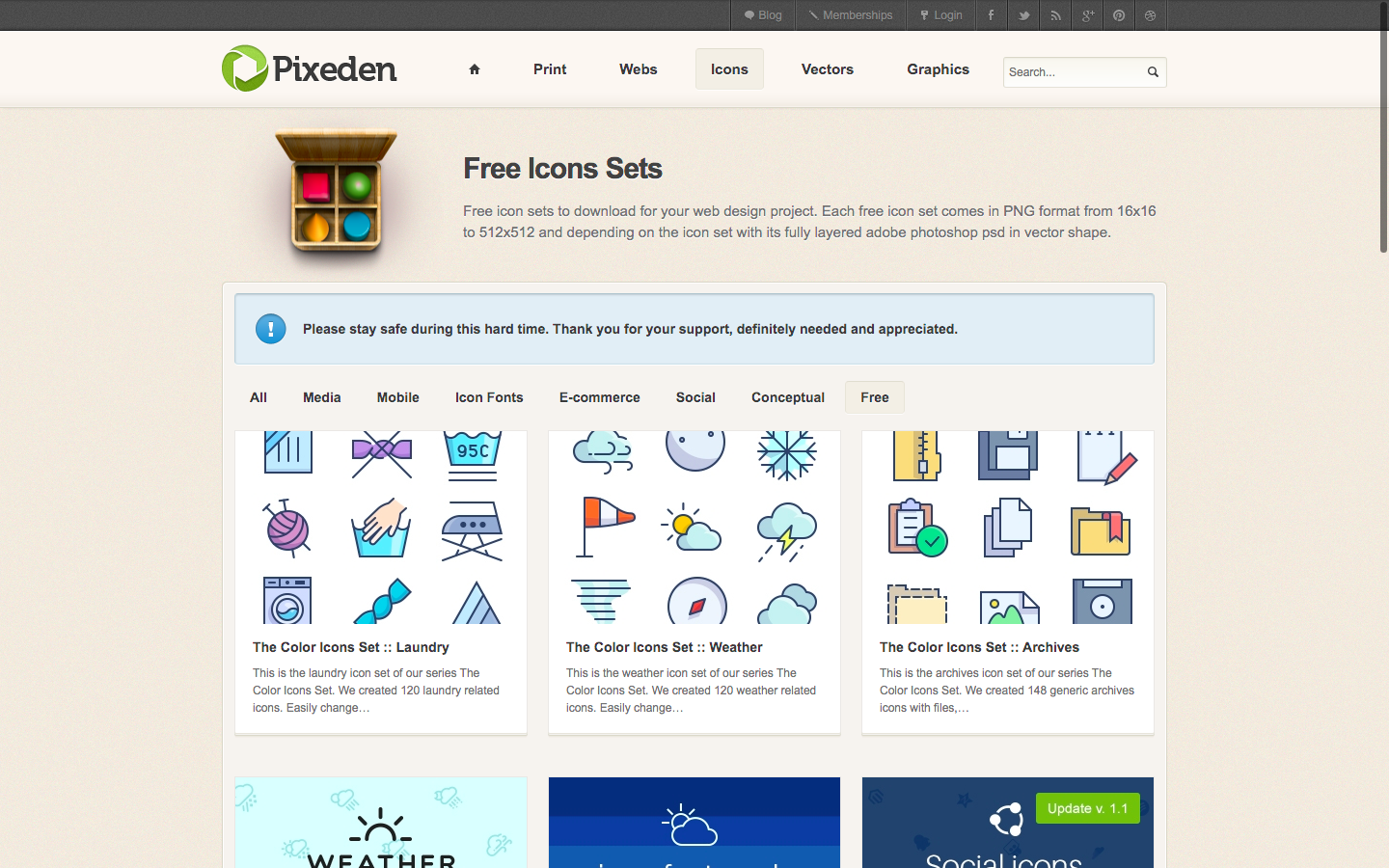 Pixeden was developed as a free online community for web designers, and the founders then added a premium membership plan. Their team of in-house personnel produces all icons, graphics, and design assets. You also have the option of ordering unique graphics for your specific needs.
The designers on the team create around 150 and 200 innovative design resources every year. There are at least 100 icon sets currently available, most of them dedicated to social media or technology. There are a number of icons specifically created for iOS app designs.
Pixeden's royalty-free license allows all icons from their library to be used for free or premium items. Free icons may be included in templates sold on websites. Premium icons can be used in web templates that are sold in a store.
Free icon sets are available. To download premium resources you can join a membership plan from $6 a month whereby you can download unlimited files. Monthly and annual memberships are available.
10. Flaticon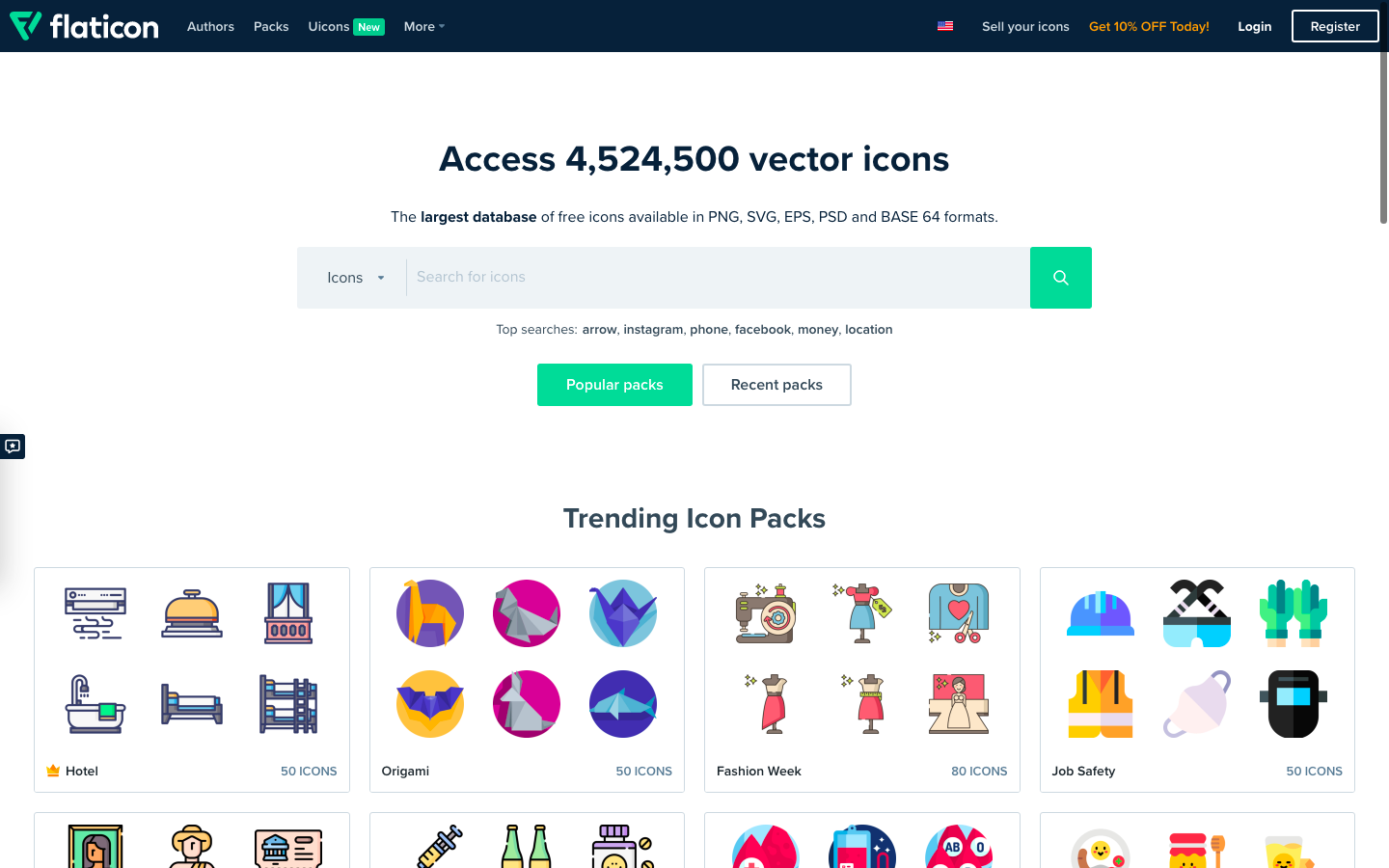 Flaticon is a part of Freepik and is among the most popular collections of stock icons on the web. Thousands of designers from across the globe have created the icons, and they contain icons depicting a broad array of subjects. There are over 2,000 user interface icons for the web, iOS, and Android operating systems.
You will also have the ability to edit the size or color of the icons to your preferred settings and download them in another format.
Unless you select the Unlimited Free option with your Premium subscription, you must include attribution if you use icons downloaded from Free Tier or the Free Icon Collection for personal or commercial projects. A Limited option will remove the majority of these limitations, but a license-specific copy will not be granted.
Some icons are available for free with a Premium subscription. To obtain a complete catalog of icons, you must purchase a Premium subscription for $8.25 per month (annual and monthly subscription options are available).
11. Iconshock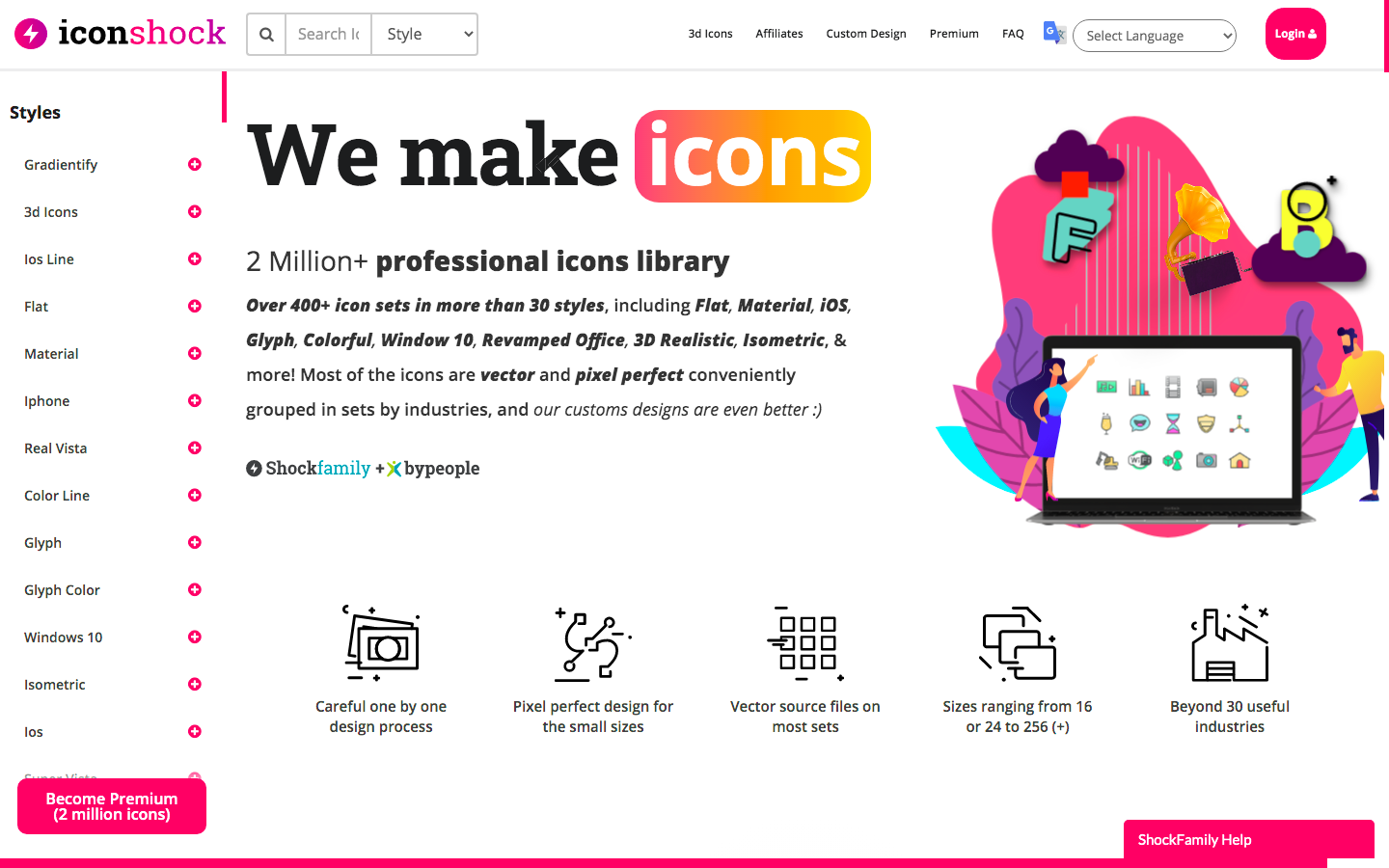 Iconshock is an online database of over 400 icon sets in over 80 styles, organized into industries. Once you find an icon style you like, you can search for keywords in it to locate icons for your project.
Free to download are basic icons in low resolution with free membership in premium quality. Premium membership gives you access to all icons in vector format and extras in addition to gradient icons, an interactive icon pack with editable gradients, and access to a commercial license.
All icons which you can download for free must be appropriately cited if you are using the free version. Credits are provided for premium icon users under the commercial license.
You can download full vector versions of the icon files for free. To access unrestricted use of the icon files, premium memberships start at $79 a year or $99 for a lifetime.
12. Findicons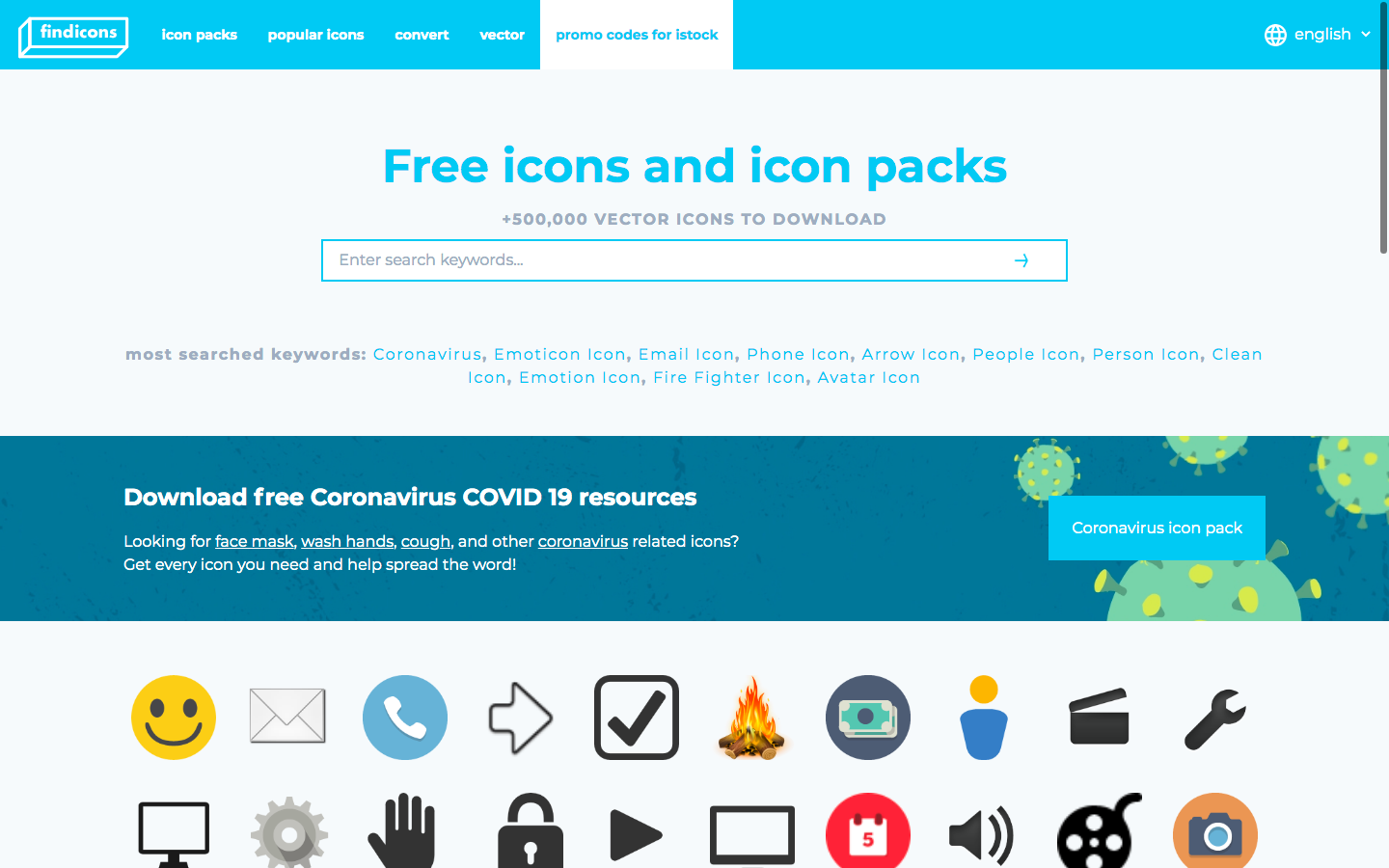 Findicons has the largest selection of free icons available on the internet. The sophisticated user filtering and matching system will make it simple for you to get the exact icons you need for your projects, in any format that you need.
Icons are listed in the drop-down menu in 2,600 different product lines. They are sorted by keyword, size, color, license, and other attributes.
Each pack that comes with a license has its own icon license. Some do not allow commercial use. The license file of each icon pack must be examined before you download it.
13. IcoMoon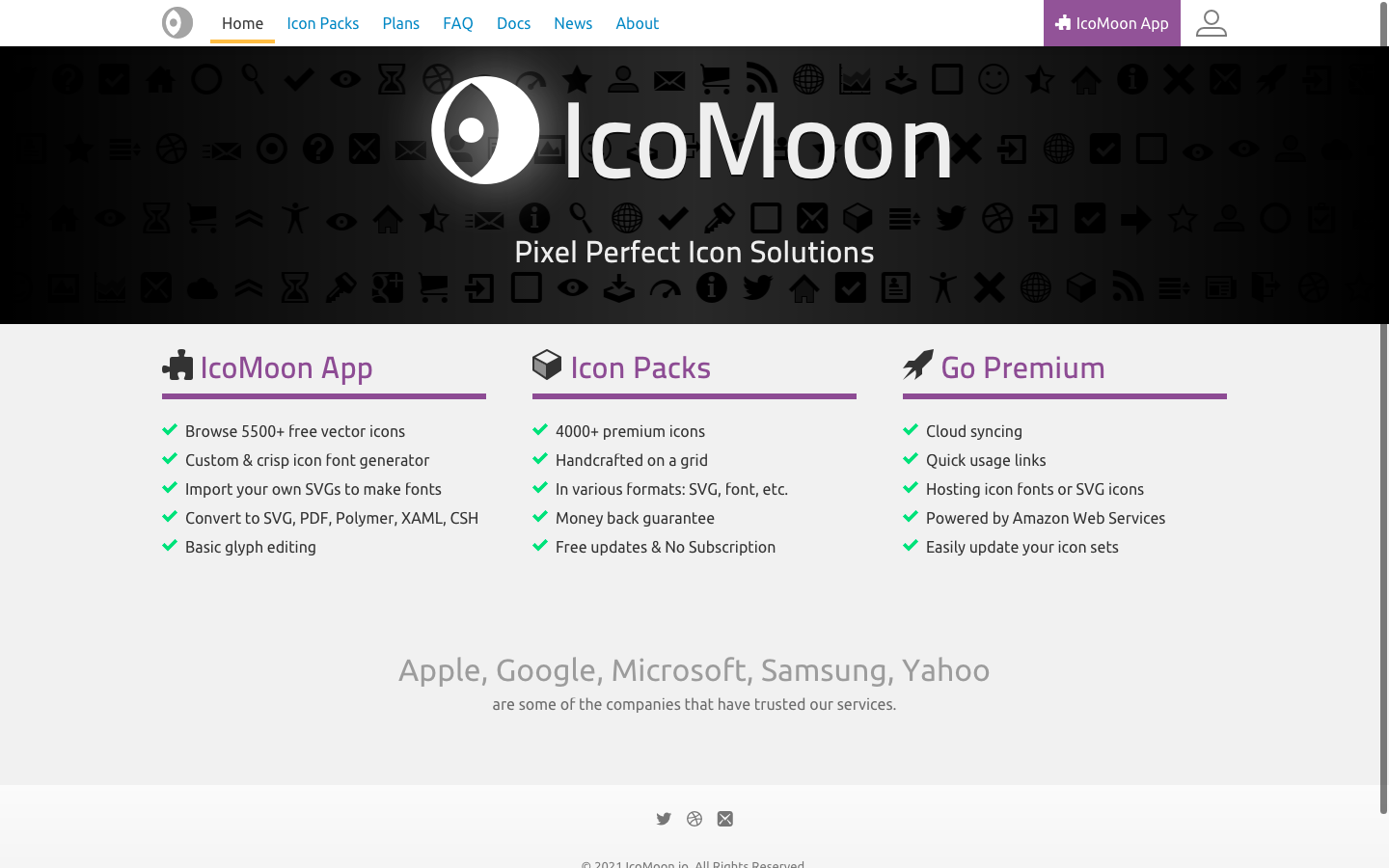 IcoMoon makes an icon library app composed of icon sets that are meticulously crafted. Also provided is the app's assortment of icon packs, which the app makes at a grid size that is specifically conducive to crisp icons. All the icons in a single pack are created at a perfect size to maintain their crispness, and the icon packs are provided in multiple resolution sizes.
Every icon pack has its own license. Please ensure to check the licenses before you download the icons.
The IcoMoon app is available free of charge. All icon packs are sold separately. A free pack containing 490 icons is available from Microsoft. Premium packs priced at $39 or more are available for purchase.
14. iconmonstr       
 
A few simple black and white icons are packaged into a small album to create a comprehensive collection of descriptions for different topics and concepts. This little collection is continually being added to and always open to suggestions from visitors. For those who want additional icons, they are required to download them individually, which eats up space on your device.
The site features an icon designed by a single designer with close to 15 years of experience in icon design. You can also download the free icon font from the site containing over 300 icons.
The free iconmonstr resource for personal or commercial use allows the use of icons to create content for personal use and re-sale, but icons may not be used to represent products or a company in any way. Icons cannot be sold or re-distributed.
15.  ZillionDesigns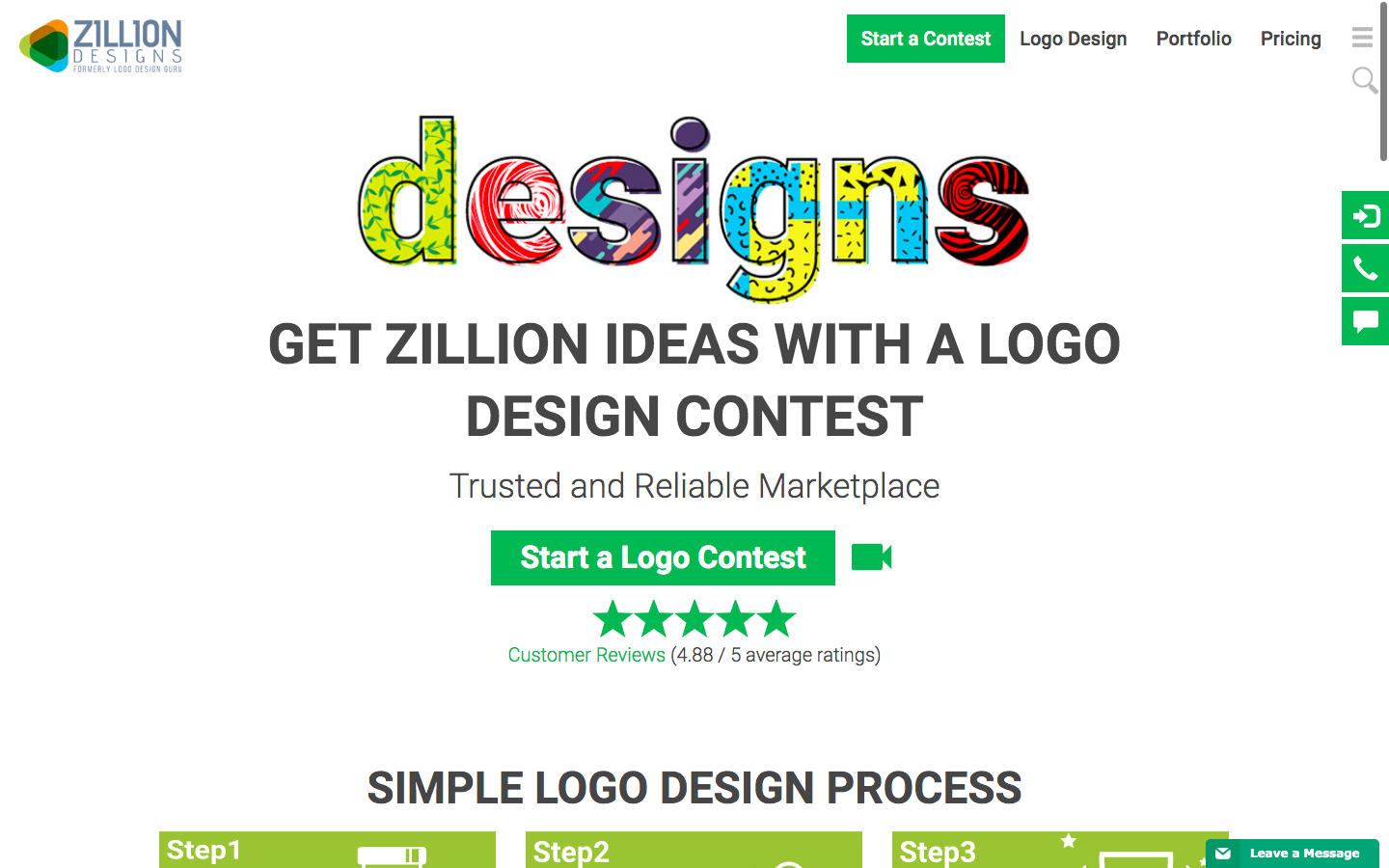 ZillionDesigns is a company with a team of more than 100,000 designers from over 200 countries. The company functions by providing open-ended design briefs, so you choose a specific design feature and initiate the design and competition process. Upon reviewing the entries, designers will submit several design options—you choose your favorite candidates, and the will receive all of the rewards, including those funds.
Although you need to pay to download your own designs, ZillionDesigns also has a complete set of free icon downloads available for download. These icons are available in different styles and colors; they're typically in PNG format.
Contests promoting icon design for free are being hosted. You can start a contest if you would like to obtain icons for your site at no charge. The prize values for the icon design start at $199, but you can present bigger gifts and attract more contestants if you like.
16. Streamline Icons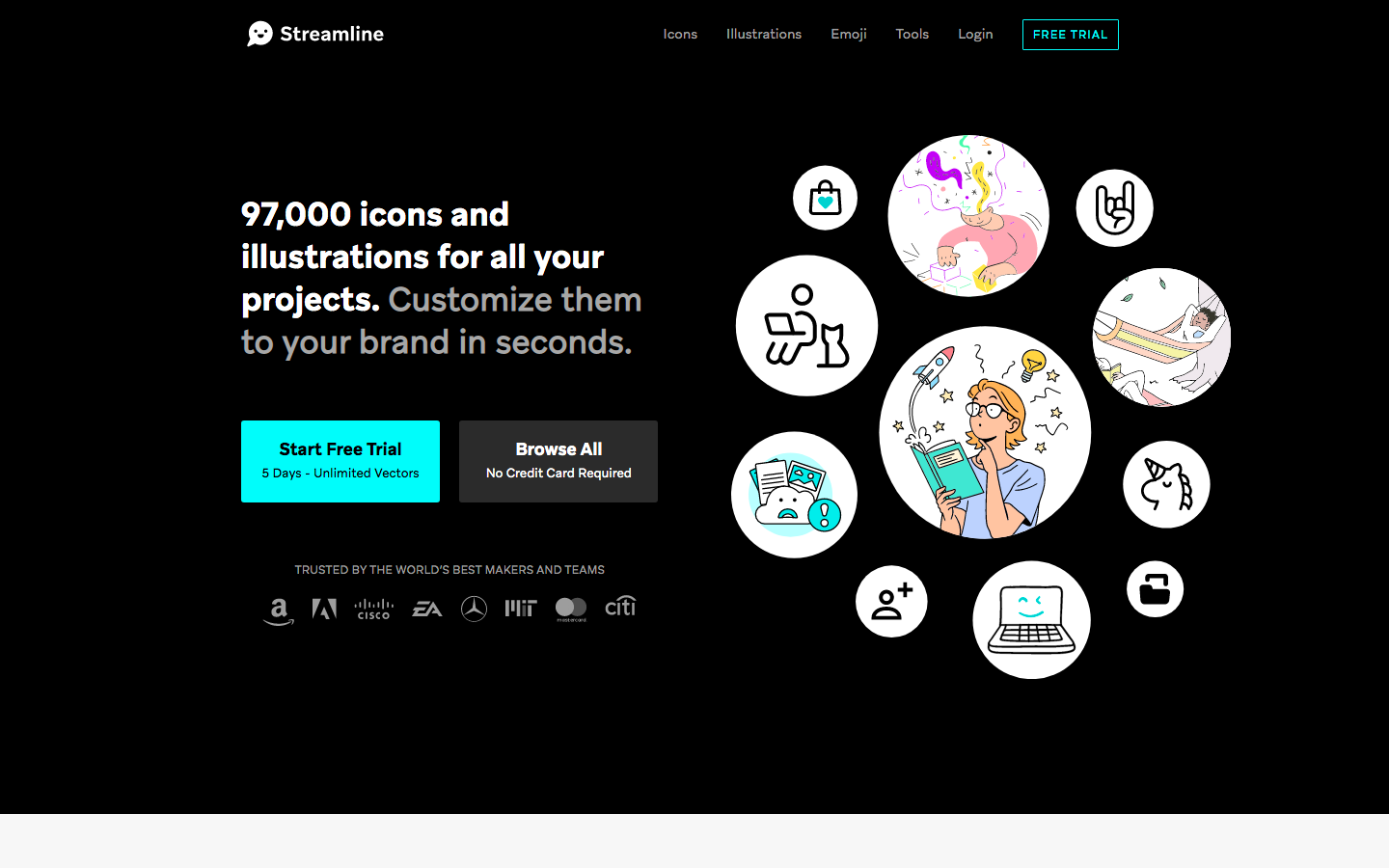 Streamline provides one of the most complete collections of icon sets available on the web. The complete collection includes over 97,000 files in 12 styles and covering multiple areas, all of which are readily available for use in vector format.
An in-house team handles all icon design, and they often distribute new versions to the users. There is a desktop app available for searching for, browsing, and customizing icons, and there are plugins for working with icons directly within popular software, including Sketch, Adobe XD, Figma, and PowerPoint.
You can use PNG icons at no cost as long as you are attributed in any type of project, including templates for logos and other business uses, but you can not redistribute them. The Premium License permits you to utilize more icons in commercial projects of all sizes, but for each one, no more than 100 are provided.
Access to the full icon set with a 5-day free trial costs $19 per month. You can download low-resolution icons in PNG format for free.
17. Icojam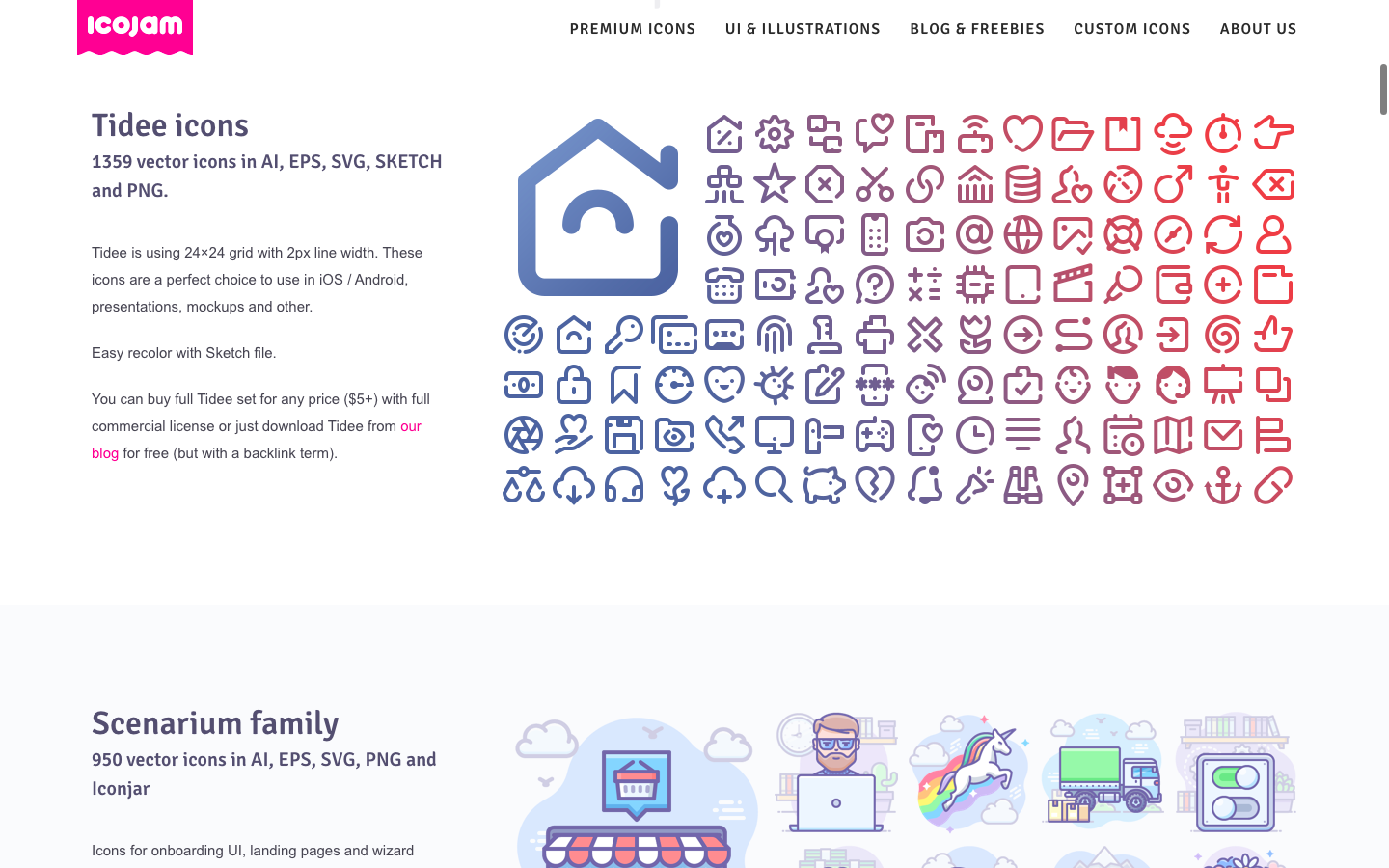 The code icon set contains a wide variety of diverse traditional and modern icon styles. All icon sets are supplied as vector files, which makes them easy to customize using software.
Aside from the standard sets, you can also use special sets to make a special avatar, city illustration, or user interface. You can also request custom icons in the style of existing icon sets.
You can acquire and use totally free icons in both commercial and non-commercial contexts. You must cite Icojam while utilizing Premium icons under the standard license, but you can't use them for merchandise for sale or as logos.
Various icons can be found on free blogs at Icojam. Individual icon sets are available at set price points beginning at $5. Custom icons can be ordered from $15 per icon with a minimum value of $100.
18. Material Design Icons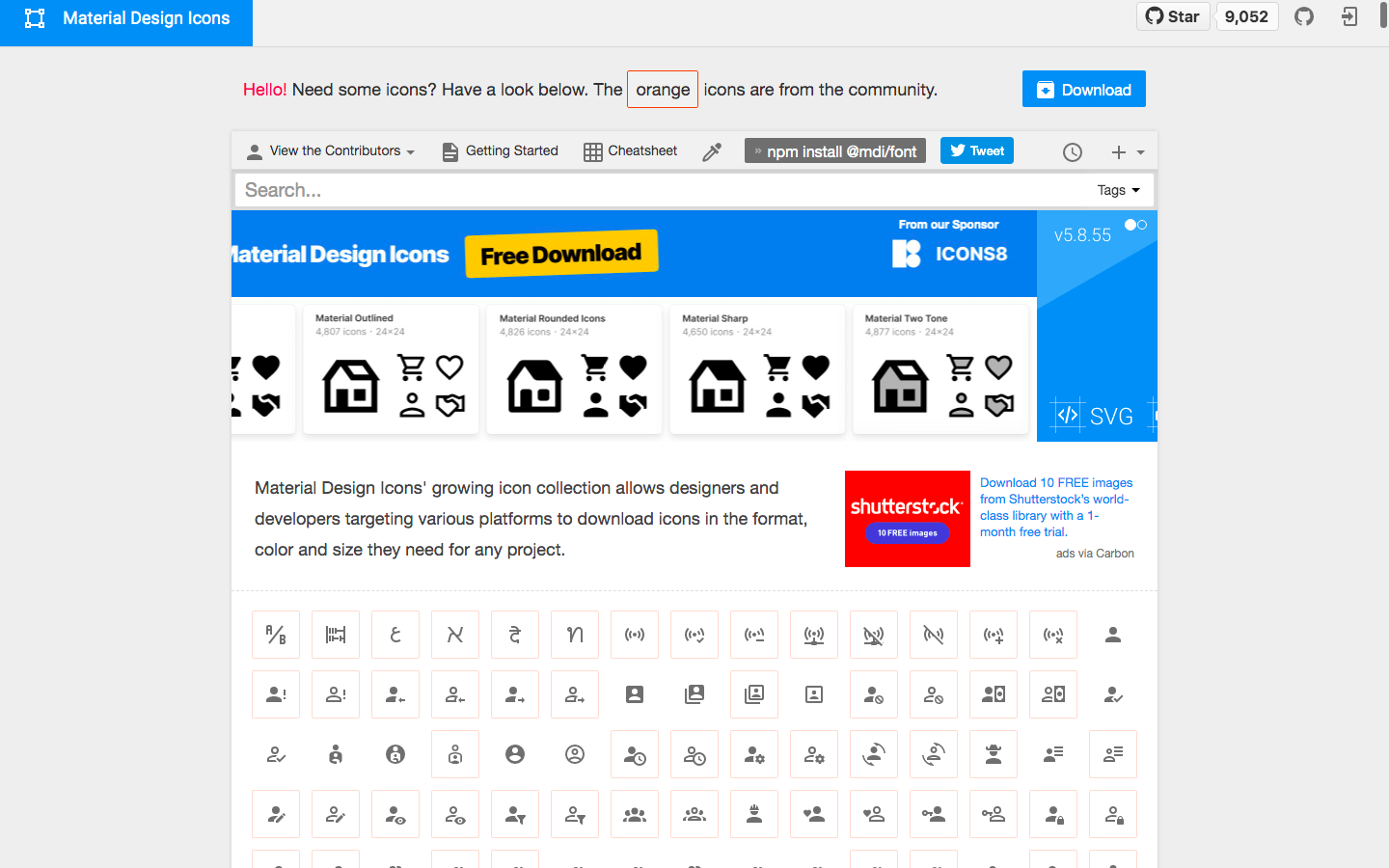 MaterialIcons.org is a community-driven database of restaurant icons for UI developers and designers. Information on the site may be hard to decipher, but you can download individual icons in a range of different file formats to use with different software and software frameworks.
Icons can be used on unmodified or customized bases. You can use them as-is or edit them and choose from several themes, sizes, and densities.
19. Glyphish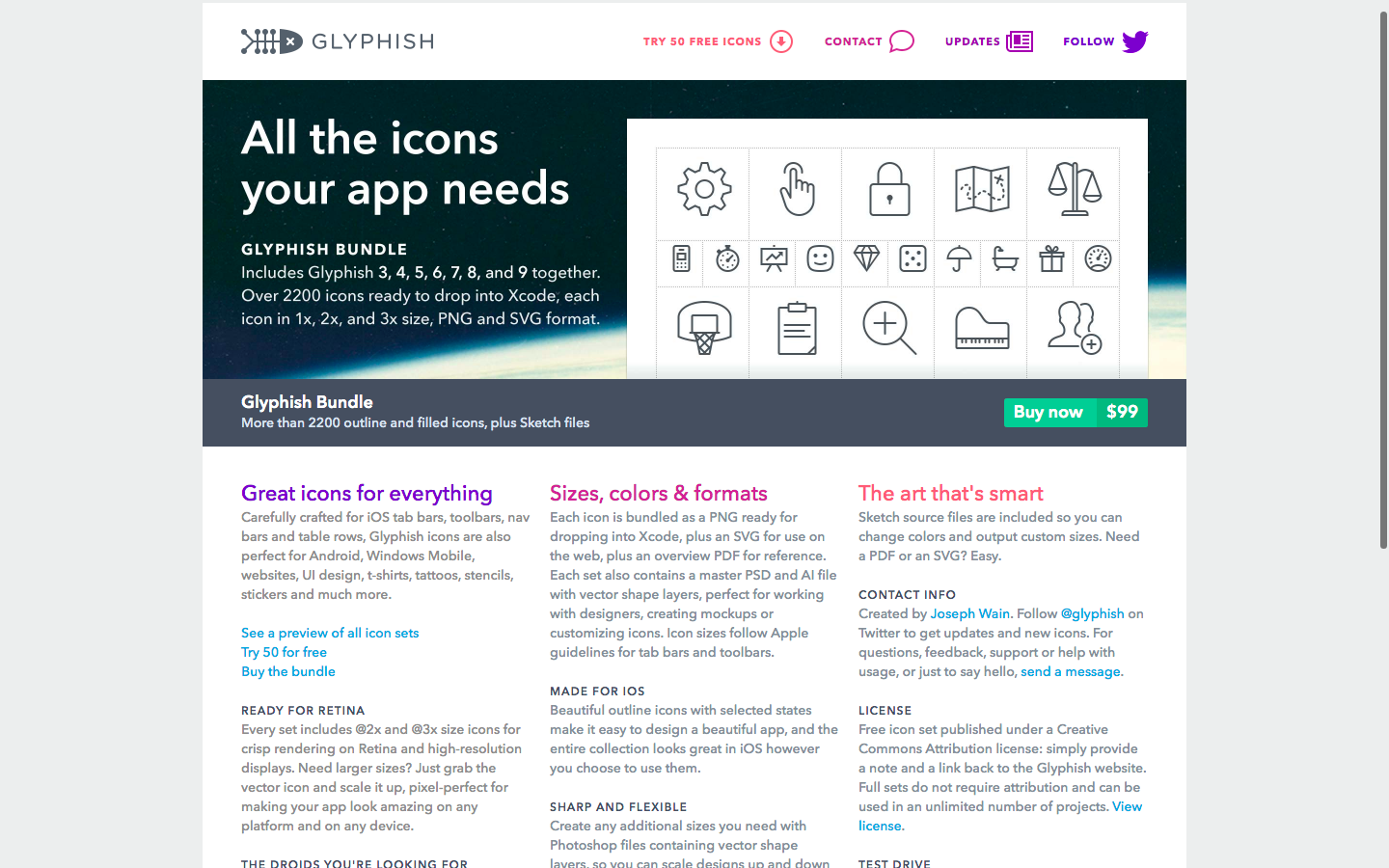 Glyphish offers a collection of over 2,200 glyphs, most of which are designed and uploaded by Joseph Wain. The glyphs are primarily optimised for mobile app use, though they can also be utilized in other contexts, such as Android, Windows, HTML, and other platforms.
All retina-ready icons and their companion string resource types in real time in Xcode are included in this icon set. Sketch source files are included.
The product allows you to use the icons both in personal and commercial projects, but they're not eligible for resale or redistribution. A free pack containing 50 icons is available if you link to the Glyphish website. The full bundle of 2,220 icons costs $99.
20. Design Bombs
Make sure to check the Design Bombs Freebies section, which contains dozens of free icon packs in a wide range of styles and categories. Sign up to our mailing list to receive notice about new additions to the section.
Final Thoughts
If you would like to take full advantage of your talents, it would likely be challenging for you to spend time designing your own icons while you're also handling lots of other different projects. If you're a website owner, you might not even know where to begin when it comes to designing your own icons.
The fantastic thing about icon libraries is their ability to connect talented graphic designers to site owners and freelancers who are looking for icons to add to their projects, all of which are downloadable a few moments after the individual icon is requested.